In a recent Engage for Good webinar, Navigating Cause Partnerships Through COVID-19: Boots On The Ground Insights From Cause Marketing Experts, For Momentum's Mollye Rhea, a 25+ year veteran in the industry, led a panel discussion of social impact leaders currently in the throes of responding to COVID-19.
Access Webinar Now! (Free to EFG Members or $99)
Amanda Lepof represented the American Red Cross, Janelle Lin represented DonorsChoose, Jane Balek represented Think About Your Eyes and Yunice Emir represented The Coca-Cola Company. Panelists shared real-time updates on how they are altering their partnership plans for 2020 as a result of COVID-19.
First, Mollye Rhea oriented attendees to the realities of the COVID-19 pandemic. As of March 31st, there were over 740,000 cases and more than 35,000 deaths across the world. Due to the sad new reality humanity is facing, there are new pressures and expectations being placed on businesses. In a recent trust barometer study, Edelman demonstrates the essential role of the private sector, finding:
78% of respondents expect business to act to protect employees and the local community
79% expect business to adapt its operations, including remote working, canceling non-essential events and business travel bans
Mollye shared that several companies are stepping up to help those impacted by COVID-19 with a wide range of relief. A few of the examples shared were:
Zoom is giving videoconferencing tools for free to K-12 schools while teachers are having to conduct distance learning
Mucinex started a "Spread Facts Not Fear" PSA campaign to encourage safe habits and to point people to experts
Tito's is using their production facilities to make hand sanitizer
Walt Disney World is donating surplus food supplies to help local communities experiencing hunger
Reformation is providing masks for LA's essential workers
Johnson & Johnson is spending $1B for vaccine research
And more!
Mollye also shared insights into how COVID-19 is impacting the local economy. According to a Yelp survey, there are obvious declines in some business categories due to shelter-in-place orders, while other categories are experiencing increased demand including grocery stores and food delivery services.
The changing COVID-19 landscape compels nonprofit organizations to shift their partnership focus. The Chronicle of Philanthropy encourages nonprofit organizations to pivot to offer three phases of support:
Response — emergency funding that keeps an organization going for the next month or allows it to serve immediate needs now
Recovery — funding to cover enough of lost revenue to put an organization back in the position to serve its mission and respond to evolving community need and opportunity
Resilience — funding that enables an organization to build larger operating reserves as well as mutual understanding and trust with funders about what it takes to serve the mission over time
Social distancing is creating a challenging few months ahead for many nonprofits as their Spring P2P events are being canceled or rescheduled. And, this is impacting cause activations that typically happen in the March to May timeframe to, including MDA's Shamrocks campaign, Autism Speaks' Light it up Blue, Earth Day campaigns and many more.
While many organizations are making decisions to pause, postpone or pivot, creative new campaigns are being launched such as the Save the Children and No Kid Hungry partnership with celebrities called #SaveWithStories. Amy Adams and Jennifer Garner are working with Save the Children and No Kid Hungry to share stories on Instagram and Facebook to provide entertainment and education to kids and parents stuck at home during the coronavirus outbreak.
To help with cause planning, Engage for Good and For Momentum worked collaboratively to design and conduct a snapshot survey to get a read for how the COVID-19 pandemic is impacting cause planning and timelines. Twenty leading nonprofits organizations participated, and the results of the poll are below.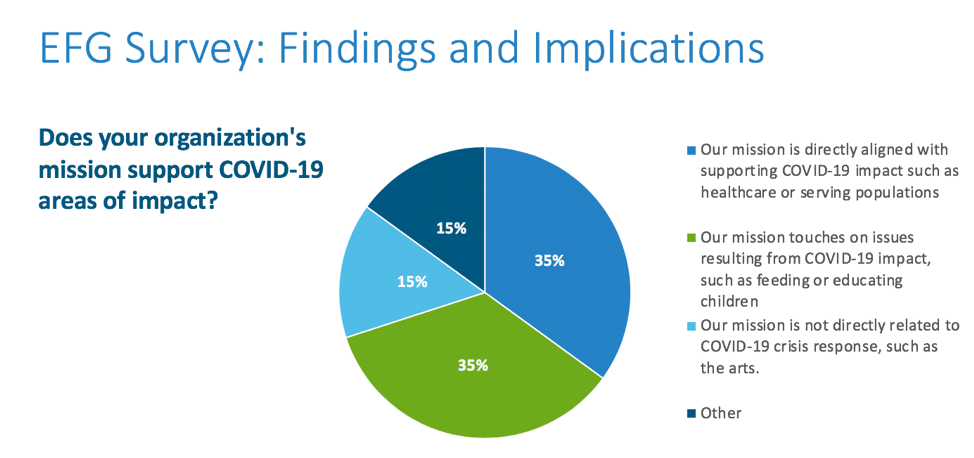 During the second half of the webinar, cause partnership practitioners shared their action plans for moving forward:
First up was Amanda Lepof, Executive Director of Corporate Fundraising, Strategy, and Programs at the American Red Cross. Amanda shared that the American Red Cross assists over 30,000 people daily. Traditionally at this time of year, Red Cross is launching their Sound the Alarm, Save a Life campaign. This is a door-to-door initiative focused on installing smoke alarms in individual homes. However, that campaign has obviously been put on pause with most Americans being required to distance themselves and shelter in place. ARC's partner Delta has worked with them to shift this campaign to the Fall. In the meantime, Anheuser-Busch announced a $5 million donation to support blood drive efforts during this disaster and also helped promote their partnership with a special TV ad. Additionally, the company is hosting blood drives and helping to produce hand sanitizer.
Next, Janelle Lin, SVP of Partnerships & Business Development, at DonorsChoose shared their incredible work to keep kids learning from home during this epidemic. Traditional partnerships with Google and Dick's Sporting Goods remain strong, however they had to figure out what students' needs truly were during this time. To do so, they surveyed teachers about the current needs of their students from low income households. They launched their Keep Kids Learning Campaign based on these results and were better able to direct partner resources to the real needs of schools and students in local communities.
Jane Balek, Executive Director of Think About Your Eyes, shared her perspective of challenges within the vision industry. As a result of eye exams being categorized as not essential during social distancing, the industry has been hit hard. She estimates an impact of $1 billion a day due to office closings and lost revenue. Think About Your Eyes partners are reporting financial constraints that will interrupt their ability to make traditional partnership contributions in near future. She is focusing on maintaining leadership structure and planning for the recovery. They also are shifting partnership models from cash contributions to in-kind participation. While cash is low, each partner has media channels they can leverage for a unified message. They are also using this time to redefine the campaign's value proposition, conduct outreach beyond the vision community and gain insights about how the campaign can address future challenges.
Yunice Emir, Corporate Social Responsibility, Public Affairs & Communications, at The Coca-Cola Company, shared with attendees that Coca-Cola's mission continues to be "Refresh the World. Make a Difference." This mission led Coke to help create the Disaster Action Alliance (DAA) in collaboration with several other large companies in response to the increase in natural disasters. The mission and purpose of the DAA is to positively impact communities in the U.S. affected by disasters through cross-sector collaboration with the goal of leveraging respective disciplines and resources to strengthen communities year-round. In response to the COVID-19 crisis the DAA membership is working together to identify opportunities to collaborate and contribute to help communities how they need it most.
Finally, Mollye Rhea closed the webinar by sharing tips for navigating difficult conversations, which is a necessary skill during this difficult time. She recommends using a "LEADERS" model as a conversation guide:
L = Let the customer share their concerns and fears
E = Empathize
A = Acknowledge their issue
D = Don't take it personally
E = Extend and apology or affirmation
R = Resolve the problem
S = Seek approval on the solution
In addition, Mollye also shared a list of resources for cause practitioners. COVID-19 is impacting every organization and company in one way or another. To assist, For Momentum has compiled a list of resources to help navigate the evolving corporate partnership landscape: For Momentum's COVID-19 Resource Round-Up.
Panelists also shared their #1 tip to navigate partnership conversations during the COVID-19 Crisis:
We've connected on a very raw and real emotional level with our partners. We've had multiple calls where partners have teared up and shared how relieved they were to hear about our new initiative. I'd recommend asking a simple question to try to connect with your partner. I always start with "How are you doing and how are the students doing in [your neck of the woods?]" Partners are dealing with a tremendous amount of stress and reshuffling of priorities and I think the personal connection is important. Also, this question often helps the partner orient themselves to our mission and initiative.
-Janelle Lin, DonorsChoose
If you are a leader of a team, communicate often with your team. As a teammate, make extra efforts to connect with your colleagues. We are responding to an emergency where every single person is impacted. Give people the benefit of the doubt, be extra patient, and support each other.
– Amanda Lepof, American Red Cross
Try to connect with each of your partners and understand how this is impacting their businesses and their employees. If you can understand what their pain points and concerns are, you can start thinking about how YOU can help them as a partner. In our roles, we are often asking our partners to give or contribute, this is an opportunity for us to learn how we can help these companies and demonstrate how the relationship returns value.
Also – understand that resources can mean more than money. Your partners may have resources they can contribute (staff, marketing channels, communications) that can help at this time.
-Jane Balek, Think About Your Eyes
Plan A has been thrown out for everybody. You're not alone. But remember what your overall partnership goal is — making an impact. Both sides of the partnership have a vested interest in success. Work together to find creative, longer term solutions that still gets you to your end goal.
-Mollye Rhea, For Momentum
Access Webinar Now! (Free to EFG Members or $99)
Become an EFG member today to receive this webinar and much more for free!