The impact of COVID-19 on the social impact community, and our world, has been staggering. However, companies and causes that have embraced this challenging time and used it as a catalyst for greater impact, new partnerships, and innovative ways of connecting with stakeholders are shining through.
The Arthritis Foundation was in the middle of sponsorship conversations with CBDMEDIC (manufacturer of a topical, CBD-based pain relief cream) when Covid-19 hit the U.S. The partners quickly pivoted to reimagine their collaboration and decided to co-host an innovative, three hour Facebook Live Fundraising Event: Survive & Thrive: Live Celebrity Challenge to benefit the Arthritis Foundation's severely at-risk, elderly and immunocompromised populations, disproportionately impacted by the COVID-19 crisis. Participant donations unlocked gifts from CBDMEDIC.
The event featured celebrities such as pro football player Rob Gronkowski, American Ninja Warrior's Matt Iseman and Sports Illustrated Swimsuit Issue cover model Camille Kostek, who competed in live-streamed, fun and awareness-building challenges such as attempting to button a dress shirt while wearing socks on their hands (to help viewers understand challenges arthritis sufferers face).
The three-hour event, and subsequent press, was a major success generating over 1.2 million views (as of 4/27) and raising nearly $300,000 for the charity.
After speaking with the Arthritis Foundation's Cari Crady, Senior Director – Corporate and Cause Development, our team pulled three key takeaways from their experience.
1). Embrace Emerging Industries
CBD companies are exploding in growth and acceptance but still can be somewhat controversial. Leaning on strong guardrails, the Arthritis Foundation was able to explore and tap the incredible potential of an industry many might be hesitant to embrace.
2). Get To "Yes"
Although neither partner had ever attempted a Facebook live event of this magnitude, let alone on such a short timeline, they found a way to get to "yes". What would have normally taken six to nine months of planning and logistics was accomplished in three short weeks by a team that committed to standing meetings six days a week with members calling in from three countries (Israel, London and the U.S.) and five time zones.
3). Meet Your Audience Where They Are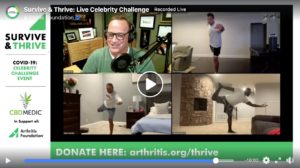 The partners developed content that could speak to their existing and prospective audience where they spend the most time online: Facebook. The majority of the content was entertaining yet educational and on-brand. One example: challenging celebrities to hold an unfamiliar yoga pose. 
With so many of us stuck home, there's an appetite to understand how companies are contributing to the crisis and different segments of the population are looking for ways to make a difference. This new era of social impact is an opportune time to challenge yourself, and your organization, to move quickly and mobilize in new and different ways.