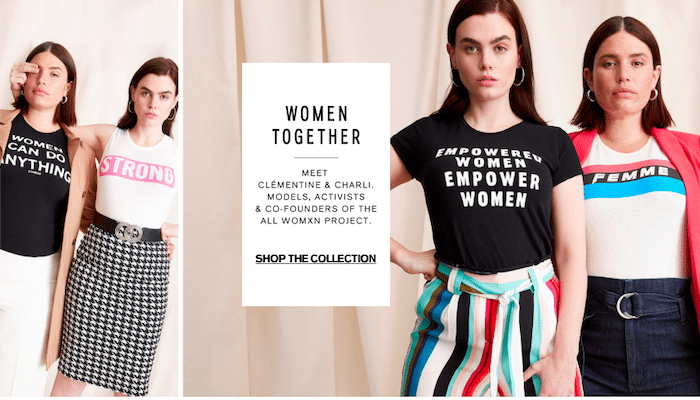 COLUMBUS, Ohio, March 4, 2019 /PRNewswire/ — Express, Inc. (NYSE: EXPR) today announced Express's Women Together campaign. Express has been celebrating women since 1980, and the Women Together campaign was an opportunity to uphold the retailer's long-term commitment to female empowerment.
Women Together, which was executed by an all-female cast and crew, features a collection of women's empowerment tee shirts emblazoned with powerful, evocative words and mantras. Clémentine Desseaux and Charli Howard—models, friends, and co-founders of the non-profit collective the All Womxn Project—are featured as the ambassadors of this message.
Desseaux and Howard are activists, influencers, writers, and thinkers; in short, like the Express woman herself, they're dynamic and multifaceted individuals leveling-up day-by-day to transform wild dreams into concrete realities. Express leveraged the Women Together campaign as a platform to highlight these women's story of collaboration, adversity and ambition.
"Express believes that when one woman follows her ambition, all women (and men) benefit," said Patrice Croci, Vice President of Brand Marketing. "This International Women's Day, we're celebrating this brand ideal and bringing it to life through the lens of Clémentine and Charli. We're proud to outfit these women—and our customers alike—with fashion that gives them confidence to go out in the world and pursue their passion."
"The All Womxn Project helped me find purpose," said Desseaux, president of the All Womxn Project. "I was very happy and successful, but something was missing. Then I found what I want to do: Empower other women."
The All Womxn Project is a 501-(c)(3) non-profit organization dedicated to girls and women empowerment. The All Womxn Project provides support, education, resources and safe spaces for girls and women around the globe, with a fast-growing network of local groups in middle schools, high schools, universities and communities. In honor of this International Women's Day collaboration, EXPRESS has donated $50,000 to the All Womxn Project.
The Express female empowerment tee shirt collection is comprised of 21 designs will be available beginning March 4. To learn more about this initiative, visit www.express.com.
About EXPRESS, Inc.:
Express is a leading fashion destination and apparel brand for both women and men. Since 1980, Express has provided the latest apparel and accessories for work, casual, jeanswear, and going-out, offering a distinct combination of fashion and quality at an attractive value. The company operates more than 600 retail and factory outlet stores in the United States and Puerto Rico, as well as a best-in-class shopping experience through its website and mobile app. In addition, Express merchandise is available at franchise locations and online in Latin America. For more information, please visit www.express.com.