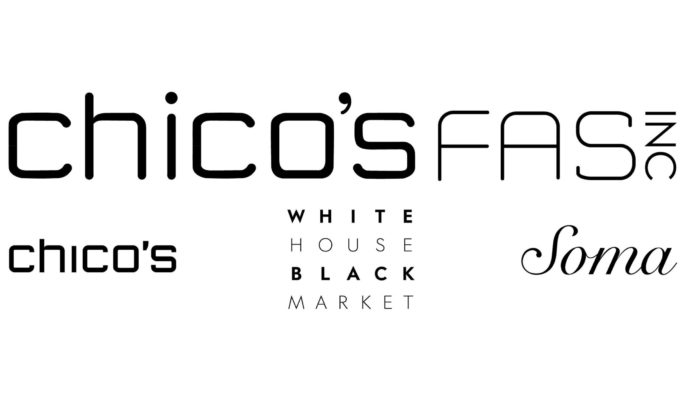 Retailer Aims to Boost Awareness and Raise Funds to Help Women Build Better Lives.
FORT MYERS, Fla., March 6, 2018 /PRNewswire/ — Today, Chico's FAS, Inc. (NYSE: CHS) and its family of brands, Chico's, White House Black Market and Soma, announce a new national partnership with Habitat for Humanity International aimed at empowering women to build strength, stability and independence through housing.
"As a Company that serves women, Chico's FAS is deeply committed to their well-being, health and empowerment. A safe, affordable home creates transformational advancements for women, their families and communities," said Shelley Broader, President and CEO of Chico's FAS. "We recognize and value the immense contributions that women make every day. With over 65% female representation on our Executive Committee and 55% representation on our Board, our commitment to women's development is ongoing and indisputable. There is no greater force than women coming together to support each other."
The partnership kicks off on March 8th in support of International Women's Day, celebrating the social, economic, cultural and political achievements of women. This multifaceted partnership includes sponsorship of Habitat's 2018 Women Build program, which recruits, educates and inspires women to build and advocate for safe and affordable shelter in their communities. Chico's FAS' support will directly impact 77 communities across the United States, including the complete funding of two new homes and providing $1,000 grants to 75 Women Build projects.
To further the effort, each of Chico's FAS' brands will donate a portion of certain product sales, up to a combined maximum donation of $650,000, to benefit Habitat for Humanity. Additionally, Chico's FAS will collect register donations at its Chico's, White House Black Market and Soma boutiques, outlets and online.
"Chico's FAS is consistently recognized for their real and substantial commitment to women's equality. In the U.S. alone, affordable housing is unreachable for far too many women and their families, creating barriers to education, financial stability and health. We know that home is the key to a better future and together, with the help of partners like Chico's FAS, we can give a hand up to more women in need of a decent place to call home," said Colleen Finn Ridenhour, Senior Vice President of Development, Habitat for Humanity International.
Chico's FAS will also sponsor Habitat's upcoming Home is the Key campaign, which gathers sponsors, celebrities and community leaders for activities and build events across the country, drawing attention to the critical need for affordable housing.
More information can be found at www.ChicosFAS-Cares.com.
About Chico's FAS, Inc.
The Company, through its brands – Chico's, White House Black Market and Soma, is a leading omni-channel specialty retailer of women's private branded, sophisticated, casual-to-dressy clothing, intimates and complementary accessories. As of October 28, 2017, the Company operated 1,474 stores in the US and Canada and sold merchandise through franchise locations in Mexico. The Company's merchandise is also available at www.chicos.com, www.whbm.com, and www.soma.com. For more details information on Chico's FAS, Inc., please go to our corporate website at www.chicosfas.com.
About Habitat for Humanity
Driven by the vision that everyone needs a decent place to live, Habitat for Humanity began in 1976 as a grassroots effort on a community farm in southern Georgia. The housing organization has since grown to become a leading global nonprofit working in more than 1,300 communities throughout the U.S. and in more than 70 countries. Families and individuals in need of a hand up partner with Habitat for Humanity to build or improve a place they can call home. Habitat homeowners help build their own homes alongside volunteers and pay an affordable mortgage. Through financial support, volunteering or adding a voice to support affordable housing, everyone can help families achieve the strength, stability and self-reliance they need to build better lives for themselves. Through shelter, we empower. To learn more, visit habitat.org.