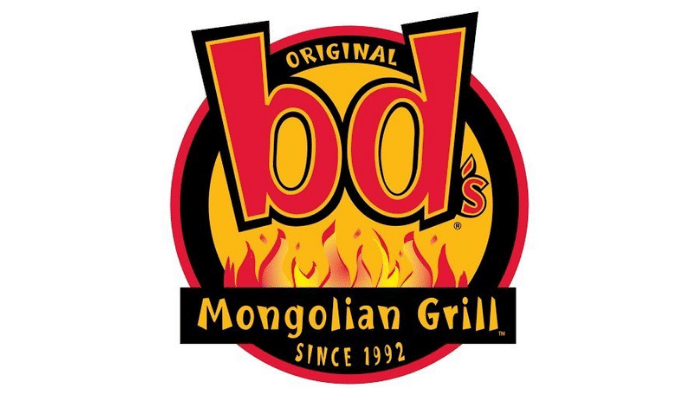 DALLAS, Oct. 29, 2018 /PRNewswire/ — The men and women of America's armed forces put their lives on the line every day to protect our freedom. In recognition of their sacrifice and service, popular create-your-own stir-fry restaurant bd's Mongolian Grill is continuing its tradition of supporting Folds of Honor, an organization dedicated to providing educational scholarships to spouses and children of America's fallen and disabled service-members. bd's is joined by fellow Mongolian Concepts brands, Genghis Grill and FlatTop Grill, in this year's fundraiser.
From Monday, October 29 through Veterans Day on Sunday, November 11, guests at bd's Mongolian Grill locations can buy a $2 pin-up to support Folds of Honor. Guests will be able to write-in who they "dedicate" the pin-up to (Active, Veteran or Family Member). In addition, on Veterans Day, each bd's location will donate 10 percent of food sales to support a local Folds of Honor chapter.
"At bd's, we pride ourselves on our culture of giving and supporting our local communities, especially through offering support for individuals who need help the most," said Doug Willmarth, Chief Marketing Officer and nine-year Navy Veteran. "It is a privilege to continue to stand with Folds of Honor to help our nation's heroes and their families."
"The support from bd's and Mongolian Concepts and their dedication to Folds of Honor is amazing to see and helps us to continue contributing to the families of those who have sacrificed so much defending our great nation," said Folds of Honor representative Chick Linskey. "We look forward to this year's fundraiser and giving people the opportunity to eat great food, for a cause."
For more information or to locate your nearest bd's location, visit www.gomongo.com. For more information about the Folds of Honor Foundation, visit www.foldsofhonor.org.
About bd's Mongolian Grill
bd's Mongolian Grill first opened in 1992 in Royal Oak, Michigan offering a fun and entertaining dining experience for customers to enjoy delicious create-your-own stir-fry. With over 80 fresh ingredients to choose from, bd's Mongolian Grill gives customers the power to create what they crave and then watch the brand's Master Grillers prepare their stir-fry creation on a Mongolian-style flat top grill. To learn more about bd's Mongolian Grill, and where to visit one of the brand's 21 locations, visit www.GoMongo.com.
About Folds of Honor
Folds of Honor is a 501(C)(3) nonprofit organization that provides educational scholarships to families of military men and women who have fallen or been disabled while on active duty in the United States armed forces. Our educational scholarships support private education tuition and tutoring for children in grades K-12, as well as higher education tuition assistance for spouses and dependents. Founded in 2007 by Major Dan Rooney, an F-16 fighter pilot in the Oklahoma Air National Guard who served three tours of duty in Iraq, Folds of Honor is proud to have awarded more than 20,000 scholarships in all 50 states, as well as Guam, Puerto Rico and the Virgin Islands. For more information or to donate in support of a Folds of Honor scholarship, visit www.foldsofhonor.org.
SOURCE bd's Mongolian Grill
Related Links